Shoes: Pleasure and Pain @ The Bowes Museum
Posted on August 8th 2016 by indigo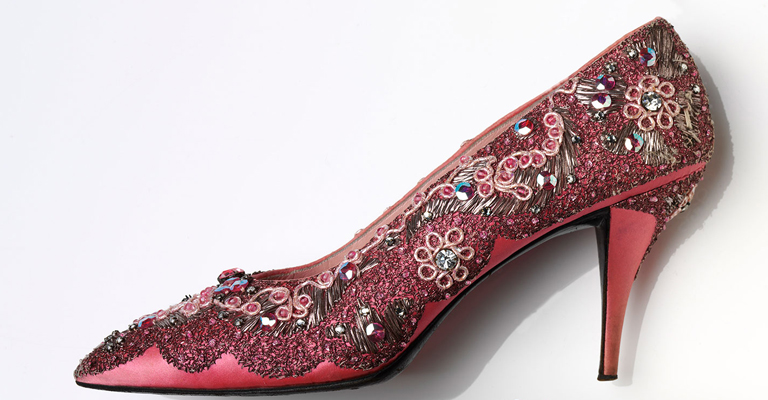 By Amanda Tutin
On Saturday just gone, myself and my fellow shoe enthusiast friend attended 'Shoes: Pleasure and Pain'. The collection, on loan to The Bowes Museum from the Victoria and Albert Museum, is simply a must see. Over 2,000 years worth of history is encompassed by the exhibition, which is divided into 5 sections; Transformation, Status, Seduction, Creation and Obsession. Clearly, this isn't just about the fashion aspect of shoes, it's about so much more.
The items on display are like a thought provoking shrine to all things shoe. Aside from the vanity aspect of wearing such creative designs, it incites wonder as to the practicalities of actually walking (or dancing in some cases) in some of the shoes, especially the more extreme historical, symbolic and culturally important fashions. In one particular case, the wearer can only crawl whilst wearing the Christian Louboutin 'Ballerina' shoes, a look into the fetishist 'pleasure' side of the exhibition. True, some of the shoes were designed upon necessity, the moccasins for example, where I assume the moose skin was chosen for its hardiness against the baron landscapes, but such pairs as the Japanese geisha wooden flip flops, they had a specific seductive purpose. These weren't just for decorative effectiveness; the design was specific to the way it made the girls walk, a performance (along with their unique dresses) that attracted the eye of the men they tried to ensnare. So simply put, shoes aren't just something you put on your feet. Far from it, in fact. It's no wonder people have coveted and collected the impractical and luxurious items for hundreds and probably thousands of years, for they are so much more than an item of apparel. They are symbolic of culture and status, a form of seduction, a focal point of fairy tales and stories (think Cinderella's glass slipper and Dorothy's ruby slippers from the Wizard of Oz!) and a nod to the talented craftsmanship and design of those shoemakers that spend hours making paper patterns, painstakingly carving wood, sewing materials together and embroidering the thinnest of silks. However, certain designs of shoes had negative associations, particularly the 'macho man' stacked heeled shoes from the 1970's. A product of that time, they screamed oversexed pimps and dangerous gangsters, and the collection has a few examples of the aforementioned to look at. Or maybe trainers are more your thing? If so, you should probably check out the Ross Macwaters Adidas collection.
Looking through the cases, of course I had my favourites, (the Swarovski designed Cinderella glass slipper, a pair of black and silver 1930's flapper shoes and the famous 'urban shoe myth' Manolo Blahnik black Mary Janes made famous by Carrie Bradshaw in Sex & The City ), but even the ones that didn't stand out for their high heels, or bright colours or creative designs, were mesmerising. You can't help but think of the stories that must be behind the shoes; the Chinese lotus shoes for example that were a necessity of the 19th century tradition of foot binding. The 8cm long shoes, despite probably being mistaken quite often for pretty children's shoes, must have been excruciating for the women to have worn, despite it being the feminist ideal of the time. This brings the 'pain' aspect of the exhibition to the forefront of everyone's mind. Each shoe comes with a succinct description of what it is, where it came from, what time period and who it's on loan from, with quite a few coming from the stars themselves. Think Kylie Minogue, Elton John, and of course the collection from Josephine Bowes herself. If early 20th century shoes are more your thing, you might want to check out the private collection from Lionel Bussey, who collected shoes from 1914 until his death in 1969, when he had acquired about 600 pairs, a small selection of which is on display as part of this exhibition.
To take a quote from the exhibition's curator Helen Persson, "This obsession with shoes just really struck me, and how it's gone on. Through social media, it's in our living room. I wanted to go into why are we who we are in shoes? And so often they are not really made for our feet, which are actually quite wide. Fashion is a different thing". Tapping into the different sections of the exhibit, it proves that people do have many ideals about shoes. Some simply see them as a necessity over fashion, some as adornment, some in a more perverse sexual way. To sum up, shoes really can be what the wearer wants them to be, because they come in all shapes, colours and sizes. Whether you want to gain height advantage, a sexy wiggle in your walk, keep up to date with the current fashions or step in line with your culture and status, there are shoes for every situation and this exhibition has them all. It does not disappoint. If you are even just slightly interested in fashion, culture and history, there is something for everyone here. It's a great exhibition that I'm overjoyed at having the opportunity to experience.
Shoes: Pleasure and Pain is at The Bowes Museum until 9 October. Book your tickets online from The Bowes Museum website.
---
Whats
On

Facebook
---
Unable to display Facebook posts.
Show error
Error: (#12) deprecate_post_aggregated_fields_for_attachement is deprecated for versions v3.3 and higher
Type: OAuthException
Code: 12
Please refer to our
Error Message Reference
.